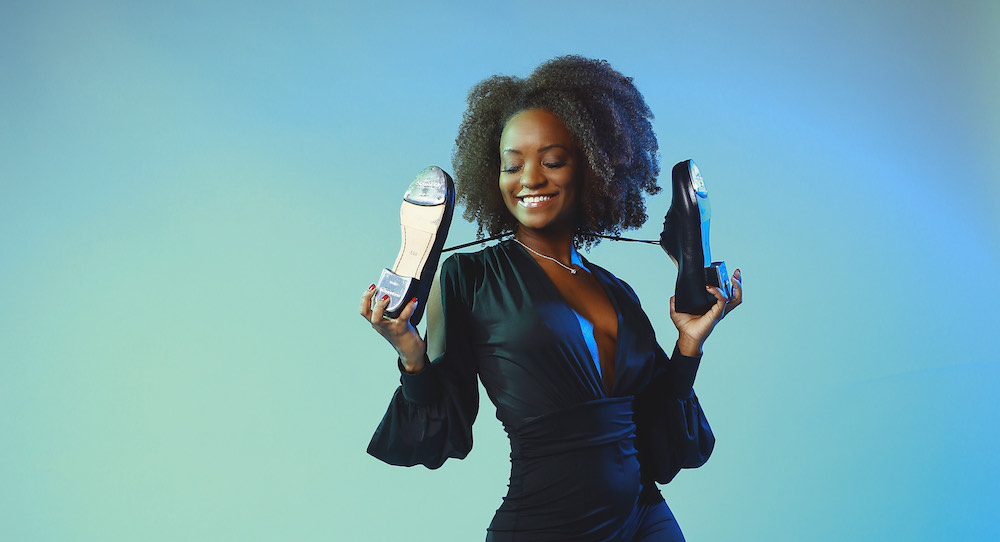 It's the most wonderful time of the year! Cozy days at home, gift giving, time with family, dancing to holiday ballets, hot chocolate, peppermint bark, familiar songs, and beautiful lights and sights. We can't help but get in the spirit! And speaking of spirit? Have you seen the latest holiday movie, Spirited, starring not only Will Ferrell and Ryan Reynolds but also 90 amazing dancers?!
The film is a Christmas-themed musical comedy featuring choreography by the incredible Chloe Arnold of Syncopated Ladies. Spirited has even inspired Só Dança's latest tap shoe and boot. And here, we chat with one of the dancers in the film, Brazilian Gisele Silva, one of the Syncopated Ladies and also a Só Dança ambassador.
How did you become involved in the Spirited movie? Did you audition or get cast in another way? 
"Chloe [Arnold] is the choreographer for this film, and I am a member of the group she created, Syncopated Ladies. Chloe's dream of bringing tap dance back to the big screen has always involved the group. She put a lot of effort into making that dream come true and getting all of us on board."
What was it like working with big-time celebrities like Ryan Reynolds and Will Ferrell? What were they like in person, and did you get to dance with them in any scenes?
"The experience was incredible – the cast, crew, directors and producers. We were treated with a lot of respect throughout the whole process. My scenes were with Ryan Reynolds and Will Ferrell, and it was so much fun. Between takes, they were always talking to us, playing around. The environment was very good. They learned and rehearsed all the dance scenes a lot. It was very inspiring to watch."
We love Chloe Arnold and her choreography! What did you like about working with her and dancing her tap moves for the film?
"Chloe was the one who brought me to the United States, so me being involved in the movie was only possible because of her. As a Brazilian, I have a visa that is very limited and does not allow me to do some work here. Chloe had a meeting with Apple and explained my situation, said that I was part of her vision and that she would really like me to be part of it. Apple listened to her and made it possible."
Why are you most excited for people to watch Spirited this holiday season?
"Spirited is a special movie. You will have a lot of dancing and singing, actors who don't need an introduction, laughter, and a beautiful message!"
You wear Só Dança tap shoes. What do you like best about the Só Dança brand and its products? 
"I have all kinds of tap shoes, boots and heels. And what I love the most about Só Dança is being able to customize them. Every shoe I own has my style and personality. It's unique!"
What's next for you in 2023?
"Syncopated Ladies will be back on tour in February 2023. We are so excited! And some other projects that have already been done but we can't reveal yet….surprise! With the other company I work for, Music From The Sole, we have dates set for the entire first half of next year. 2023 will be very busy. I can't wait!"
If you're lost on what to get your dancer friend this holiday season, consider gifting them a subscription to Apple TV+, where they can watch Spirited and be inspired by all of the fun dancing as many times as they want! Or for the tap dancer friend, Só Dança's Spirited Tap Shoe and Boot are so fun with a festive holiday look. Looking for more gift ideas? Check out these terrific stocking stuffers for the dancers in your life!
#1. Pointe Shoe Cover ($16) –These pointe shoe covers provide added protection and even come pre-sewn with elastics that stretch across the arch of your foot. Varying sizes and colors as well!
#2. Black Canvas Shoulder Hybrid Bag and Backpack ($13.50) – Every dancer needs a dance bag! This one is classic in style, and has strong adjustable straps, internal mesh organizers, an internal zippered pocket and a drawstring closure to keep your things safe.
#3. SD16 Stretch Canvas Split Sole Ballet Shoe ($28.50) – This is a favorite ballet shoe, and it's called "Bliss" for a reason! Made of stretch canvas and no drawstrings, this ballet shoe hugs the foot and is comfortable while also providing optimum protection.
#4. Dakota Makeup Bag ($10) – This fun holographic glossy mini accessory bag is perfect for pointe shoe elastics, ribbons, bobby pins, sewing kits, makeup, hair ties, band-aids and more! What a fun stocking stuffer!
#5. Mini Jazz Boot Keychain ($6.50) – We've all seen the iconic mini pointe shoe keychains, but how about a mini jazz boot keychain for that theater-loving dancer friend of yours? The perfect little accessory. (Also comes in Mini Jazz Shoe and of course Mini Pointe Shoe – Christmas-themed!)
For more gift ideas, head to www.sodanca.com.
You can follow Gisele Silva on Instagram: @iamgiselesilva.
By Laura Di Orio of Dance Informa.